The Ultimate WPForms Review + Bonus
App Scores
WPForms Review
In this WPForms review we will look at four key factors to the buyer's decision making process. This includes "Ease of use, Features, Pricing and Support". So if you just want the quick overview of how WPForms performs here it is for you.
WPForms ranks highly across all four key metrics with a combination of ease of use, well designed templates and excellent marketer focused features like landing page forms and survey forms builder being just a few standouts.
Pricing is the only area we have marked WPForms down compared to some of its newer competitors many of which are offering lifetime deals still like Fluent forms. This is the same strategy WPForms employed back in 2016 so no guarantee the competitors will keep this pricing model for too much longer.
To further understand how we came to these numbers read the full review below.
Introducing WPForms
WPForms makes the process of adding forms to your WordPress website as easy and enjoyable as possible. With its predesigned templates and easy to use drag and drop blocks you will have your first form up and running in no time.
In fact WPForms makes this claim:
Build Smart Forms.
Collect More Leads.
Grow Your Business!
And specifically they say, "Create your form in less than 5 minutes without hiring a developer!"
It's a pretty compelling statement and at $39.50 per year it's an excellent value proposition especially as you get more comfortable using its more advanced features.
When you see what is possible with a powerful but easy to use form builder you will never go back.
So in this WPForms review we are going to look at two things.
First an introduction to the app and what makes it stand out from other WordPress form builders and we will take a closer look at their form builder conversion focused features which remains one of the main reasons to still choose it over WPForms alternatives.
So with that said let's go into more details about what WPForms is and does.
What is WPForms?
WPForms was one of the first true competitors to come out and challenge the popular Gravity Forms. And they really went for the achilles heel (Gravity forms is notorious for its complexity) by making one of the easiest and most visually appealing form builders for WordPress. This is still the case today even with all the new form builder entrants on the market.
With the use of their pioneering drag and drop form builder and one click templates you are literally 5 minutes away from creating your first form and embedding it on your website.
And one of the best things about all of this is that they have a free version which is perfect if all you are looking for is a simple contact form.
However it is the Pro features that focus on form conversion rates which this review today is most interested in and which we will discuss in the "How to use" section of this review.
If you haven't already see a demo of WPForms.
WPForms Founders
Syed Balkhi
Jared Atchison
Syed Balkhi is the co-founder and CEO of WPForms. Prior to WPForms, he founded WPBeginner, the largest free WordPress resource site and OptinMonster, the most popular lead generation software.
He is an award winning entrepreneur who was recognized as the top 100 entrepreneur under the age of 30 by United Nations. Syed's work has been featured in Forbes, Inc, Entrepreneur, WashingtonPost, FoxBusiness, and countless other top publications.
Jared Atchison is the co-founder and CTO of WPForms. Prior to WPForms, Jared was one of the leading WordPress consultants in the market working with clients to transform their great ideas into reality.
His long list of clients included companies like LeadPages, ShareASale, Texas A&M University, GolfStats.com, and more. Jared knows firsthand that most WordPress contact forms plugins are poor in quality.
He's extremely proud that WPForms is changing that by creating extremely easy to use and technologically sound software that just simply WORKS!
Get started.
WPForms Premium plans start from $39.50 per year including support and updates. Plus claim our bonus plugin offer to get even more value.
How to use WPForms?
As already mentioned this review is primarily going to focus on the conversion optimization features of WPForms because that really is the most interesting and enticing reason to choose WPForms over the other form builders.
See how easy that is!
Now let's get onto the good stuff and see three of WPForms best features – landing page forms, conversational forms and survey forms.
These features have been designed to fix an all too common problem with online forms which is people abandoning your form before pressing the submit button. This is especially important for survey forms too because of their typical high rate of abandonment.
People have limited time and anything they perceive to be too hard they just forget which is a lost opportunity for you and your business.
So the first feature WPForms introduced is their landing page forms.
An example of this type of form is below.
Notice how their is absolutely nothing else on this page, in other words no distractions or hyperlinks or even menus for people to click. I love how if you look at this form you would have no idea that it was hosted on WordPress.
It looks like a professionally custom coded form which is great. But it has the added benefit of being tightly integrated with WordPress which could mean anything from immediate user account creation to even more advanced functions such as customer tagging.
And here is an example of the legendary ease of use that WPForms is so well known for because all you have to do to convert your standard form into this is click this one checkbox.
The 2nd conversion focused form is conversational forms.
An example of how this form works is below.
The key thing about these forms is how they mimic natural human conversation. Ask one question at a time and wait for the response.
A conversational form can make it even the most intense question filled form feel easier and "lighter" to engage with and use for your website visitors. Personally this form type is what I think is WPForms Kingpin feature.
And again all it takes to activate this form is one checkbox.
And the third conversion focused feature is survey forms
Specifically WPForms have the goal to create the best survey software but unlike their closest competitor SurveyMonkey you do still need to be using WordPress and to buy their Plus plan to get this premium add-on.
Once you have that you need to visit the WPForms » Addons page and scroll down to the Surveys and Polls addon. Once you have installed it, click on the 'Activate' button to start using the addon.
Now you can create your first survey by visiting WPForms » Add New which then launches the WPForms' form builder interface with its usual easy to use drag and drop blocks.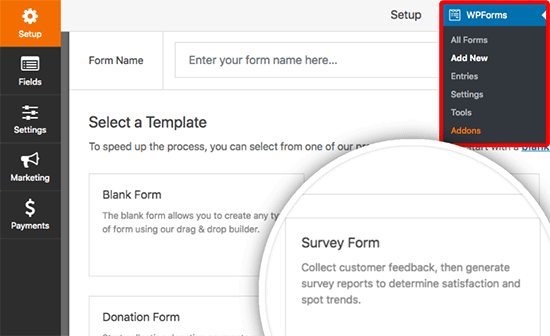 The first thing to do is to give your form a title with something that makes it easy to remember in future what this survey was testing. then click on the Survey Form template.
This will load a sample customer feedback form with several fields already added for you.
You can add new form fields from the left column and drag and drop all fields as you like in the order you like.
WPForms supports all commonly used form fields which makes it super easy for you to build highly interactive survey forms. It also has conditional logic which allows for personalization of the form based on how your user answers the previous question.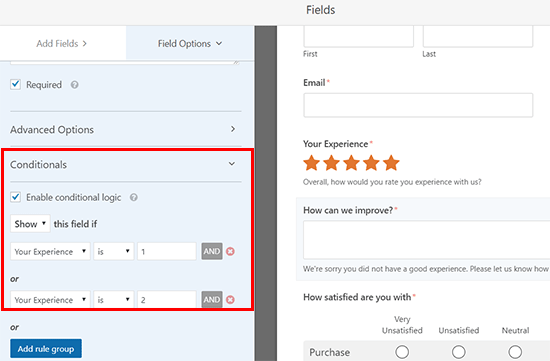 Once you have created the form, make sure to save your settings after which you can now close the form builder.
WPForms makes it easy to embed your forms on pages and posts through the WordPress editor where you will see a Gutenberg block or "Add form" button in the classic editor. Just click it and select the form you just created and voila your new form is live.
Viewing Your Survey Form Results
After your form is live you will want to see the results of your survey which WPForms presents in highly interactive charts and graphs which you can export to a spreadsheet or even print out for your next meeting.
To view your survey results, you need to visit WPForms » All Forms page and click on the 'Survey Results' link below your survey form.
On the results page, you will see your survey responses displayed in both a chart and tables. You can export responses to a single question, as well as the entire survey.
WPForms Pricing
Now that you know how good WPForms is, the natural question is price and how it stacks up to the alternative WordPress form builders.
There are three plans to choose from (identical in features – different in cost)
WPForms Alternatives
There are two notable alternatives:
Let me just say upfront all of three options are excellent for building forms. WPForms used to have a commanding lead in the area of ease of use and overall design but with the recent version 4 of Formidable Forms this gap is now negligible at best.
Gravity Forms however is still king for overall features and integrations which I suppose is a testament to them being in the game for longer so there is no reason to rule out the other two as they more than likely will catch up at the rate of development they are progressing at.
However the ultimate choice comes down to you and your needs where if you are building a super advanced form application you probably would be best choosing between Gravity Forms and Formidable Forms.
WPForms however is still the best bet for overall conversion focused forms with their conversational and landing page form options.
You have to weigh up these options for yourself but it is helpful that WPForms and Formidable Forms both have free versions for you to test but unfortunately not Gravity Forms. But Gravity Forms basically will be able to do anything you throw at it with third party integrations and a competent developer who can tweak it for you.
Hope that helps but as already mentioned all three are winners in their own rights.
WPForms Pros and Cons
Are there up-sells?
There are no up-sells when choosing WPForms.
There are however blocks on certain features that are only available on higher plans. If you have the Pro version and Elite versions you won't notice these up-sells but you definitely will on their Basic and Plus plan.
Conclusion
Do we recommend WPForms?
WPForms is an easy recommendation to make especially considering they have a free version available which will quickly have you setup with a basic form in minutes.
When you need more advanced data fields you can then step up to their basic version for just $39.50 which is great value. However please note that to enjoy many of the features and ideas suggested in this review you will need at least the Pro plan starting at $199.50 per year.
When you bump up to that plan you get some of WPForms best features in the form of landing page forms, conversational forms, surveys and polls and integrations with PayPal and Stripe.
The thing that WPForms has the most going for it is ease of use and overall design of the forms CSS which gives them a pleasing look and feel to your users so the best advice would be to see this for yourself before judging between competing solutions like Formidable Forms. You will be able to get a feel for this for yourself even in the free version.
Get started with WPForms. (Free version available)
Is there a WPForms coupon code?
At the moment there is a 50% discount across all WPForms plans which means you can get their basic version for $39.50 and their top tier Elite plan for $299.50 which is already very favorable pricing structure compared to their main competitors.
Occasionally vendors share coupons, these will appear below (or blank if none).
Get started.
WPForms Premium plans start from $39.50 per year including support and updates. Plus claim our bonus plugin offer to get even more value.